Are you a Digital Marketing Rockstar? 🎸 Join the
Clickx Fulfillment Network
Clickx Fulfillment Network is a highly-selective, quality-over-quantity elite group of marketers.
Are you an experienced Digital Marketing Professional looking for consistent work, great pay and the opportunity to sharpen your skills & build up your portfolio? If so, look no further!

What is the Clickx Fulfillment Network and what skills are in demand? Clickx is a digital marketing services hub for new and established agencies alike.

We provide the platform, resources, guidance, and fulfillment services for digital marketing agencies to scale their business in various niches across the globe.

By joining our network you'll have access to HUNDREDS of agency owners looking to fulfill their clients needs with services that include: Facebook & Lead Generation Ads, Google & Youtube Lead Gen Ads, Local & Advanced SEO and Content Marketing, Funnel Design and Lead Magnets, Brand Building, Social Media and More!
Wondering If You Qualify?
The answer is YES if you specialize in any of the following:
Facebook & Instagram Ads (All Things Paid Social)

Google Search & YouTube Ads (Full Funnel Campaigns)

Content Marketing (Topic Research, Content Optimization)

SEO (Technical, On-Page, Off-Page Optimization)

Copywriting (Blogs, Service Pages, SEO Pages or Creative Content)

Graphic Design (Social Content, YouTube Thumbnails)

Website Design (XD, Mobile Optimized Funnels, etc)

Website Development (WordPress, HubSpot, etc)

Brand Building & Social Media (Think Garyvee)

Video Editing (Long Form & Micro Content)

Voice Over / Audio Editing / Podcast Production
Join a community of the world's passionate, driven marketers. Clickx Fulfillment Network provides . . .
Consistent Work – no more wondering where your next gig will come from.
Competitive Pay – you can charge what you feel is best based on the project scope.
Flexibility – work any time, anywhere as long as you have a laptop
Less Stress – lessen the burden of communication and contracts. Our platform makes it easy to meet and do business with agency partners looking for your skillset
Community – meet other like minded successful digital marketers to help you reach your goals and sharpen your skillset
You know digital marketing lingo.

Provide polished case studies of recent client work.

Are able to handle quick turnarounds and tight deadlines.

Respond quickly to project inquiries.
This is NOT for you if . . .
You're brand new to digital marketing.

You don't have client case studies.

You're not ready to freelance yet.

You have a hard time following guidelines.

You can't handle pressure.
Please Note: Meeting the criteria listed above does not guarantee that you will be accepted.
I'm ready to join the Clickx Fulfillment Network. What are the next steps?
Step 1: Apply by filling out our application form. An email will be sent when your account is ready.

Step 2: Once you get access to our network, build your profile and upload relevant client work/case studies and availability to be accepted as a contractor.

Step 3: If you're accepted as a Clickx fulfillment contractor, you can start connecting with agency owners, browse projects, and start accepting work you specialize in best!

How do you price your services?
How much do agencies typically charge their clients?
How do I get in contact with the agency providers and can you do that for me?
How much can I expect to make per month when they join your network?
Is my income capped as a service provider within the network?
How do I set myself apart so agency owners hire me?
Is this similar to Upwork or other platforms?
How much will I get paid per project?
What type of clients typically use this service?
How long does it usually take for projects to start coming up?
Unlock the potential to generate a monthly revenue of $10K and beyond with our comprehensive support in lead generation to sales
Join our Clickx Fulfillment Network and unlock unlimited potential and flexibility, setting your own rates while working from anywhere.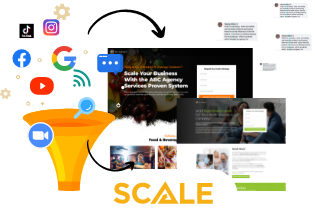 Confidently add an extra $30K - $50K/month in recurring revenue with our support in lead generation, sales and strategic coaching.